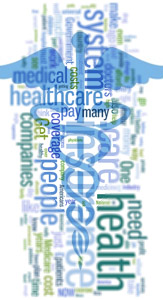 HealthPlanUSA.Network
Massive changes in the healthcare environment over the past several decades are of deep concern to Dr Meyer. He feels that many of these changes are detrimental to patients and jeopardize the quality of healthcare. As a result, he has Founded and is CEO of the HealthPlanUSA.Network. This online journal can be seen at www.HealthPlanUSA.net. You may also submit articles on cost-effective or market-based medicine to DelMeyer@HealthPlanUSA.net for consideration by the editorial board.
MedicalTuesday.Network
He has started an informational email exchange, the MedicalTuesday.Network to promote a dynamic dialog with the business /professional community in order to promote healthcare changes. This network, with an active email exchange on the second and fourth Tuesdays of the month, continues to double in size almost every month. You may email your interest and contribute ideas to Info@MedicalTuesday.net and be placed on the email list to keep current with the latest ideas.
Keep Informed
To stay informed, browse these online sites and become acquainted with the challenges we face in medicine. You may deposit email comments concerning any of these issues to DelMeyer@MedicalTuesday.net. These contributions will give further information and ideas upon which we will comment and share in the MedicalTuesday.Network.